Mission
To promote the welfare of all cats.
To promote the breeding of pedigreed cats to the standard as accepted by the Cat Fanciers' Association.
To sponsor cat shows and educate the public.
To promote sportsmanship and friendship among cat fanciers.
Mission Statement:
Laissez les bon temps rouler!
Description:
Non-profit club chartered in 1969. Affiliated with The Cat Fanciers' Association, Inc.- Southern Region.
Traditional Show Date:
1st weekend in February
Club Contact:
Carol Fogarty
gemsofchromatics@yahoo.com
Club web site:
www.miamifloridacatfanciers.com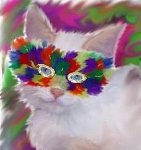 © 2013-2019 Katsmith. All Rights Reserved. Updated 7:45 PM 3/12/2019
Email The Webmaster